The Never-Ending Climb to Get to the Next View
Some say that it is the best view of Colombia, the one you see after climbing the 740 steps of El Peñol, a monolithic rock that stands more than 650 feet into the sky in Guatapé, Colombia. That is, if you can make it all the way up there.
The town of Guatapé is located about 2 hours away from Medellin, and it's one of the most famous landmarks in the country.
I was passing nearby, filming one of my trips, when the driver pointed out this amazing spot. Of course I couldn't resist and I asked him to deviate from the original itinerary.
Because it wasn't planned, I wasn't wearing the right shoes or outfit, and neither were any of my teammates. But that didn't stop any of us!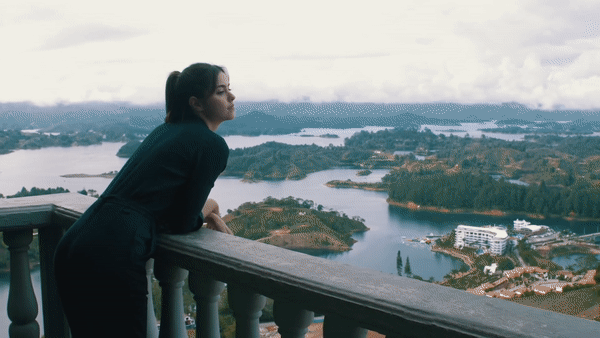 The beginning of the climb was awesome. I was fresh and excited, and both my mind and my body were one hundred percent there. I knew I had a long way ahead of me, but the view would most probably repay the effort. So, I started with energy.
Toward the middle, I started feeling a bit tired. It was hot, and the top all of a sudden seemed very far away. And yet the views kept getting better and better, which kept me climbing up. By this point, my body was still there, but my mind was playing tricks on me. I kept thinking about my shoes: they were the worst ones I could have worn that day! But there was nothing I could do about it, so I just kept climbing.
 Slowly but surely, one step after the other, I finally reached the top and…
WOW! It was A-M-A-Z-I-N-G.
I was breathless. In front of me a spectacular view stretched wide and large. I was blown away by the colors and the reflections of the vegetation and rocks over the water where a town had once stood, before the area was flooded to create a dam.
Such impressive beauty easily overshadowed the fatigue of climbing and my annoying shoes. Getting to the top was a great experience.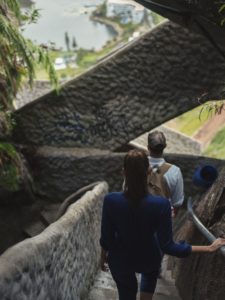 But it didn't end there! Going down was actually the most interesting part. As I said, the staircase was very, very steep, and there was no way to exit—it's not a place for quitters, that's for sure. After a few steps down, my legs started to shake. My mind was playing with me again, and bringing me back to that one time when I fell while going down a different staircase and landed on a glass table. It was very painful and my legs ended up full of bruises. Since then, I have always been afraid of falling down the stairs.
Anyway, mind tricks or not, I wanted to (and had to!) finish what I had started. There was not any other way to get down.
 Overall, what I brought back from this experience was the great satisfaction of reaching a tough goal. Scoring always feels good, but if it's hard, you may rest assured that scoring feels a million times better.
I know you probably knew that, but climbing El Peñol taught me more on the subject and how it relates to real life.
Because when you set a goal, getting there can be tough. Sometimes when you reach a goal, a whole other task comes up, which you hadn't considered at the beginning. And it's a never-ending story; there is always a new rock to climb and an unexpectedly hard descent, and success and defeat, struggle and gratification.
The most important part? There are a couple, which I recommend that you keep in mind:
Never give up
And enjoy the process!
Credits for video: Jonny Beker