How Paulina was Designed and Created.
---
When I was little, I used to wait for my older sisters to leave, to sneak into their rooms and try their perfumes. I would apply them (very generously), and then happily leave the room to go on my next adventure… into my mothers' bathroom, where I would
experiment with several bottles of perfume, mixing and matching fragrances. I looked like a little chemist or perhaps like a magician playing with different potions.
I have always been very attracted to perfumes, possibly because I perceive them as so much more than just "scents". Perfumes are an extension of our own personality, they give information about us, they are that personal touch we give to people we meet.
Body chemistry has an important effect on a fragrance, and perfume can be very
different from person to person. I like this because it means that we all maintain our
originality even when it comes to perceiving aromas.
It is for this reason that I called my perfume only "PAULINA" and not PAULINA by Paulina Vega as you might expect because, for me, every woman who enjoys my perfume will give her a different scent for who she really is. This is why the PAULINA BY YOU
campaign was born.
"PAULINA" combines the stories of millions of women who inspire me every day through their role in society. Women who put all their heart into what they do, with discipline and passion. Women who are as strong as concrete, yet still feminine and soft as pink velvet.
That is the principle behind my fragrance: we are all different, millions of unique
universes made up of contrasting elements that often fight each other, but which can also coexist beautifully.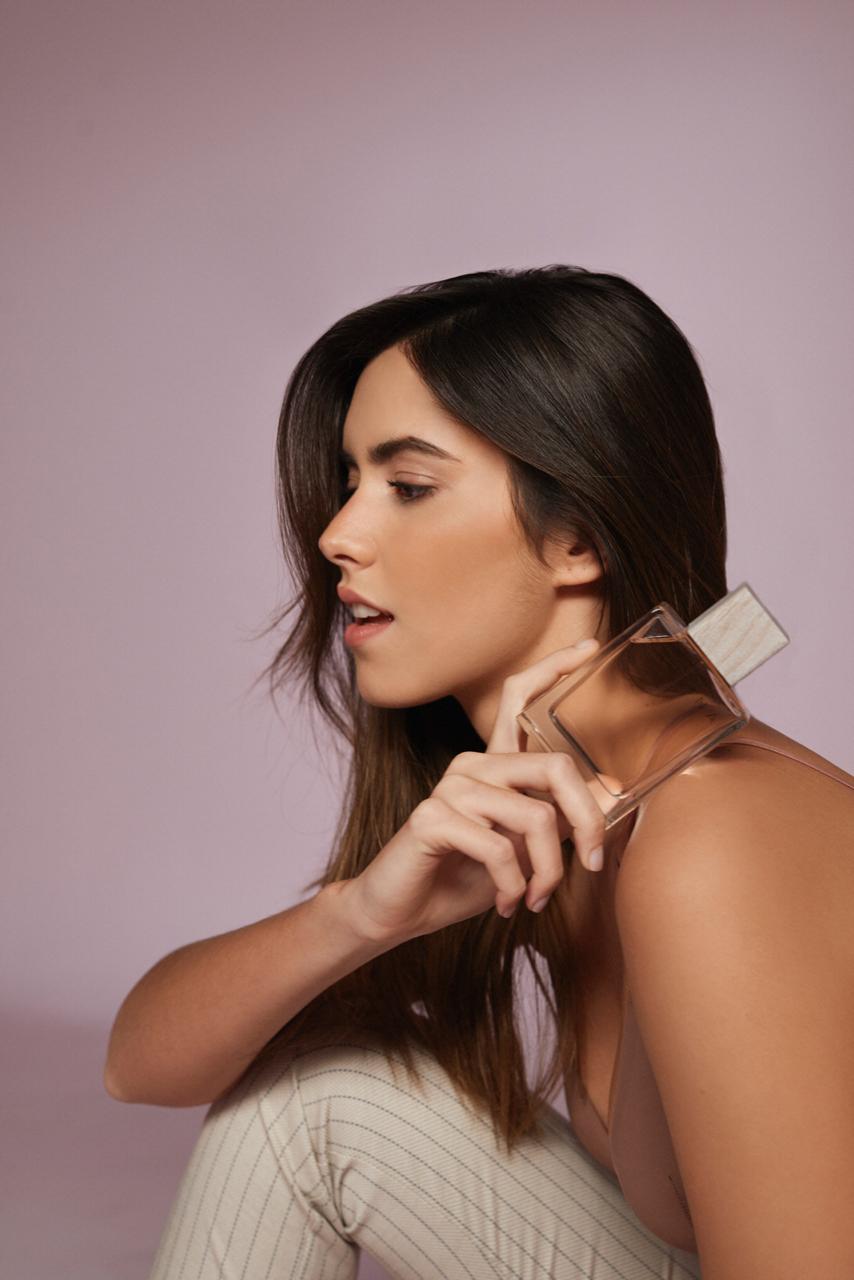 "PAULINA" took months of conversations, reflections, and exchange of ideas, and let me tell you that this was an incredible adventure that I started with Falabella and dur-ing which I learned a lot about how to make a perfume. For example, that each per-fume has three notes: a top note, which gives the initial impact and lasts a very short time, a
middle note that stays only a little longer on the skin, and then a bottom note, which is the heart of the perfume and is made so that the fragrance will last much longer.
A long and exciting process that began with… Keywords! Yes, I had to find the key-words to express what I wanted my perfume to be, I chose without any hesitation: ele-gant, timeless, modern, powerful and sexy.
Then I traveled with the Falabella team to New York to one of the most technologically advanced perfume labs. We started with different samples that were created especial-ly for me, based on my selection of keywords. I knew exactly how I wanted my perfume to make me feel, so I could immediately identify the options I liked best. From there, I worked a little more on combining several fragrances to get the final result: the
Mayflower orchid and guava are the top notes, while star jasmine and Virginia cedar-wood fragrance are the middle notes. Finally, Paulina's heart is made of vanilla and
cashmere aroma.
After smelling dozens of aromas that I had created with the help of wonderful experts, my first perfume was right there in front of me, and it was exactly how I wanted it.
"PAULINA" identifies completely with me in both the aroma and the design. I didn't just want another box and a bottle, so every element, from the color of the "liquid" to the cap, was carefully selected and has a meaning.
The perfume is packaged in a rose box, a box that opens with a click and the magnet represents how I see women: captivating.
The inside of the box is grey, a smooth, concrete-colored surface, a material that I have always loved and that pays tribute to a quality that abounds in all women: strength.
The bottle is firm and modern. And this is not a simple reference, it is to remind us what we have achieved in the history of our lives so far, and what we still need to do.
The color of the liquid is rose, to represent our femininity.
A cap made of wood is the final, organic touch that seals my magic potion. Each bottle has a UNIQUE cap, which symbolizes the originality of each woman. We are all differ-ent and we must celebrate it.
From the beginning of this journey, I was clear about what I wanted and I wanted to
create a perfume that reflected elegance and sophistication, a perfume that they wanted to see, touch and smell from the moment they opened the package. A high-quality
product that women can use for every occasion thanks to its addictive and mysterious aroma created with sweet but fresh notes making them simply want to use it more and more.
I used my perfume every day, even before it came out. I am truly proud of every little aspect of this creation. I am very happy and grateful for all the support, love and trust you have given me.
A creation to enjoy…
For you with LOVE.