Reflecting on Winning and What Has Come After
It's January 25th, 2015. The time is 11:00 PM. I am in Doral, Miami, standing on the stage of the Miss Universe final, together with Miss USA, Nia Sanchez. We are holding hands— it's a question of seconds, and we'll have the answer that will change both of our lives, in one way or another.
My mind is a total blank. I can't think of anything. My chest is moving slowly and deeply, following the rhythm of my breath. It's done. There isn't anything else I can do at this point other than wait for the announcement. I have given all my answers. I have worn all my outfits. Now I can only wait. And the presenter's voice goes… "Miss Universe iiis…Colombiaaa!"
My heart is about to explode! But it doesn't show on the outside. I am not jumping around, and I am not shouting. I am simply taking everything in. I feel totally calm; my work is done. MISSION ACCOMPLISHED!
And there I am, the only one of eighty-eight amazing young women still standing in the front of the stage, after the very long three-hour night. I have just won; I am Miss Universe 2014. The second Miss Universe ever proclaimed for Colombia, after 57 years.
Next, a bunch of wonderful purple flowers arrive, and of course, my beautiful crown and sash. The crown is a brand new version and I am the first to use it. All the other contestants are surrounding and congratulating me. That is pretty much how it ended for you, and how it started for me:
The dream—my dream—had just begun.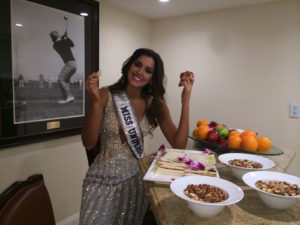 Once the live TV broadcast was over, Esther Swan—my new manager representing the Miss Universe Organization—came looking for me, and I just had to follow her. We went backstage for a retouching of my hair and makeup, and I got ready very quickly for the press conference and the first of many back-to-back interviews. Donald Trump, the owner of the Miss Universe Organization at the time, was there, too. There were also a lot of people cheering and supporting me; it was overwhelming. I was looking for my mom and dad, because I had not been able to see them after I was crowned. But the only thing I could do was go with the flow! A chaotic, yet truly awesome moment which I can't fully remember. It's all a bit of a blur: one moment I was a finalist, and the next I was Miss Universe, in a fast sequence of events filled with pure adrenaline and happiness. Everything was moving at the speed of light. Interviews. Questions. Calls. Kisses from people I didn't know. Congratulations in all languages. Photographers' flashes. Hugs. Smile. Laughs. And then again, cameras and security around me, and people calling my name and cheering for Colombia.
It was like going from zero to one hundred in a fraction of a second. Everyone suddenly wanted to get to know me. And I had to give something to each one of them. A word. A smile. A quote. My work had started right away, and there was no turning back.
I had totally lost sense of time by that point. It could easily have been both 5 AM or 1 AM, either way at some point it was time for me to leave. So I got in a car and arrived at my hotel, where my entire family were supposed to wait for me, except they didn't know where I was.
I asked for the time, and realized that it was "only" 2 AM. Still in my gown, I was taken into the hotel's suite, where some sandwiches were waiting for me. I grabbed one right away: I was starving! My family was finally all there, right in front of me. I remember Esther telling me earlier that night: "only parents and siblings are allowed." She didn't know that I had seven brothers and sisters! ☺ We were talking about what had just happened—we were all very excited—when we heard a knock on the door. It was Esther, who, with a bright, yet resolute smile, was ready to explain that I was about to be a very busy woman for the next 365 days.
At 4:30 AM I finally got to put my head on a pillow, which didn't really mean that I actually got to sleep. I didn't, in fact. I was too excited and happy to be able to sleep. And I knew that I only had an hour anyway. At 5:30 AM on the dot, the stylist and the hairdresser arrived to get me ready for my very first day as Miss Universe.
And you know what my last thought was, right before falling "asleep"?
I remember looking outside the window and seeing the light coming in. It was almost dawn and I was exhausted. I was finally alone, laying in a bed in a hotel suite in Miami, with my crown and sash a few steps away. In a super-fast flashback, I saw the previous two years of hard work and constant stress. I smiled and I said to myself: "It was worth it."
Do you want to know how I celebrated my first day of work?
I changed and put a robe on. Next, we ordered pizza and just relaxed for a bit. After all the excitement, after all the adrenaline that pumped in my veins, all I really wanted was to spend some time with my family. To extend that little sense of normality that I knew I would soon loose in favor of new, exciting things.
Let me tell you: I couldn't have celebrated in a better way! Eating pizza with my parents, both my grandmothers and all my siblings and just sharing this unique moment, which I am pretty sure we will all remember for the rest of our lives.
It's in the little moments that the best memories are made.
Photo credits for header: courtesy of Miss Universe Organization.